What is needed in a hotel in New York?
It is nowadays difficult to find a tourist who does not use a mobile phone or a camera, so before going to America you must buy a special adapter, because the voltage supplied to the mains in America, and the sockets, are very different from the rest of the world. Only the expensive hotels give adapters to guests for free – not all the time.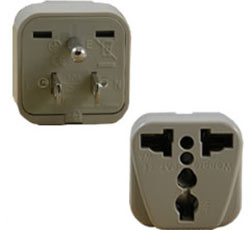 Sockets in America and adapters
In America, the type of socket used is type B, which in 1974 replaced the old type A (the adapter is shown in the picture).
Almost all electrical appliances are designed to work in networks around the world; the only problem is that you must buy an adapter in advance.

The easiest way to order an adapter is on one of the popular sites such as eBay or Amazon, you can find some very cheap - even at the price of $1. The most convenient is a Universal travel power plug for the USA, it can be plugged in any socket.

Frequently Asked Question: Why does America use a different voltage for its mains supply?
In the U.S.A., they use lower voltage and higher frequency, as this is considered less dangerous to human health and safety, but the use of such a current is more expensive than that of Europe's system.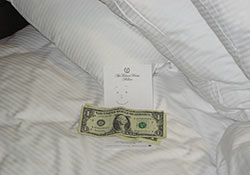 Tipping in hotels in New York
Each country has its own habits and levels for tipping. In New York, it is nice to leave a tip at almost every time, in restaurants, they specify the amount in the receipt, in the hotels you tip in accordance with your satisfaction.

Suggested tips:
• For a porter it is recommended you give $ 1-2 per item of baggage (bag or suitcase).
• Maids - $ 2-3 per night. Tipping is usually left on the pillow with a note saying "Thank you" every day.
• If the hotel provides a free shuttle service to the airport - the driver will wait for a tip of $ 10-20.
• Concierge - $ 10-20 for special services like providing tickets for a specific event.
• 2$ for a porter to search for a taxi during rush hour and $ 1 for each bag or suitcase carried.
• Valet parking - $ 5 after brought your car back.
• Tips for ordering food in your hotel room are usually included in the bill (about 15%), but it is also nice to give a tip of around 5% to the waiter for their service.

In expensive hotels, tips will cost you twice as much.
Text printed from the website www.inthenewyork.com
To the top