How many days do you need to visit New York?

You have planned a trip to New York, but don't know how much time you need? This city is world famous! It's hard to estimate exactly how many days it will it take to visit New York because of the many landmarks and places of cultural interest. If you want, you can also book a tour to one of the American cities nearby.
New York in 3-5 days
If you have decided to make a 3 to 5 day visit to New York, it will be a race against time to see everything; there will be time to see only the main tourist spots. On the pages "Popular Places" and "Parks" you will find a detailed route for visiting the places you are interested in seeing. All districts and the best-known parks are described in order starting from the most important and famous. For convenience and to save time and money, we advise you to buy a pass for the main monuments of the city. In New York you can buy two types of passes:
What to do in New York in a week
New York is a huge city, and that means that even if you stayed two weeks here you would never be bored. Just walking around the most famous places (Fifth Avenue, Central Park, etc.) will take at least a week. But in a city as surprising as New York there is no limit to what you can do and see. Here you must simply enjoy life.
If you do get bored in New York, you can always take an excursion to the surroundings. Tourist coaches travel regularly to nearby towns. You can also go by train to places of interest.
A real adventure, for example, is a trip to Niagara.
How to book a hotel and save money in New York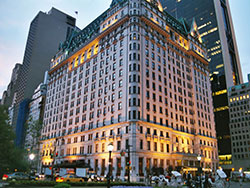 Perhaps you are familiar with the site which is famous worldwide, booking.com, or hotels.com which is well-known in America. Please visit these sites to search for the option which is best for you when it comes to the ratio quality-price. The comments from tourists can help you make your decision.

Another famous site is hotelscombined.com. This site has a friendly interface that allows you to compare prices and special offers on various other sites. Once you have chosen the best solution for your needs, simply visit one of those sites and book. This is a free service!
Tourists always want to know "Which is the best neighborhood of New York to stay in?". Undoubtedly Manhattan, there is no comparison! You can find a hotel in any price range from expensive to economical. To save more money, you can search for a room in other districts of the city. The main criterion for choosing a hotel is the distance from the subway so you can get to other parts of the city quickly at any time.
Text printed from the website www.inthenewyork.com
To the top