New York during Christmas and New Year

The main attraction of New York during winter holidays is its Christmas spirit. Because of this New York is such a popular city among tourists.
Streets are decorated the night after the traditional American holiday "Thanksgiving", which is celebrated on the fourth Thursday of November. Throughout the month of December the city celebrates the winter holidays, a lot of tourists are here at this time of year, so New Yorkers are constantly trying to escape from the city to celebrate Christmas somewhere in the quiet. In early January, all the decorations are gradually sorted out, and the city returns to normal, as January 2nd is already considered to be a working day.

On this page we will tell you the special things available for you to do in New York during the winter holidays. Please be sure that all the places described on the page "Popular Places" are not closed by this time, others will differ from their "non-festive" version.
What is interesting about New York during the Christmas holidays?
1. Rockefeller Center, the main tree and rinks

Address: 601 5th Avenue, New York, NY 10017, USA.
On the map: the place where the main Christmas tree in Rockefeller Center is located (opens in new tab).
How to get there:

Rockefeller Center - 47-50 St B D F M .

Description: the tree is annually placed in the Rockefeller Centre as a symbol of Christmas in New York. There are too many tourists, so to go on the most famous skating rink you will have to stand in long queues. That is why, if you are interested in ice-skating, we recommend you to choose one of the other rinks described below.

Skating Rink in Central Park (Wollman Skating Rink): very large and comfortable skating rink, it is recommended that you visit it! Price: $11 (Fri and Sat. $16) + $7 skate rental. Open from October to late March. Photo 2 (left). Map (in a new tab).
The City Pond at Bryant Park: another very large and nice skating rink in the center of New York. Price: free, skate rental $14. Open from early November to late February. Photo 3 (right). Map (in a new tab).

Tour reservations: on this website.

For bookings: Radio City Music Hall.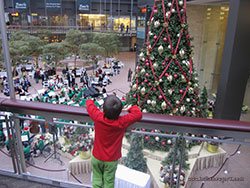 2. Macy's Santaland

Address: 151 W 34th St, New York, NY 10001, USA.
On the map: where the Macy's Santaland is located (opens in a new tab).
How to get there:

Herald Sq - 34 St N Q R B D F M .

Description: this huge shopping complex is located near the most famous buildings of America - Empire State Building. It has long been a tradition to go to this mall in a family visit and buy Christmas gifts here. For children, it is a true paradise; everything is like a fairy tale: there are elves, gifts, beautiful toys, Santa Claus, with whom you can take photos. And many other interesting things that you'll definitely will like.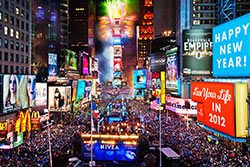 3. Times Square New Year's Eve

Address: Times Square, Manhattan, NY 10036, USA.
On the map: where the Times Square is located (opens in a new tab).
How to get there:

Times Sq - 42 St 1 2 3 7 N Q R S .

Description: culmination of the evening becomes a giant ball drop, that counts the last seconds of the year. This tradition has been observed for more than 100 years since 1907. Not all tourists can see it, Times Square where it happens is not a very big place and to get into it - it is required in advance that you buy a special "party pass", spaces are limited, and the price is more than $200. Or you can buy a ticket to one of the institutions that are near Times Square; such tickets will cost you less.

For bookings: to buy a "party pass" for Times Square or for one of the places near Times Square, use the site www.balldrop.com. For recommended excursions check out the sites that are listed below, they also offer exciting New Year's Eve tickets at discounted prices.
The following sites offer interesting tours in New York, please have a look at them. They will help you save money and are better for planning your vacation in the city.
Sites will open in a new tab:

City Sights NY
City Sightseeing New York.com
GetYourGuide
Text printed from the website www.inthenewyork.com
To the top